Cheshire Cycleway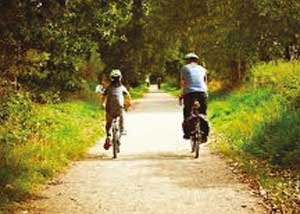 Cheshire's got the lot for cycling holidaymakers – flat routes for eating up the miles, exhilarating hills for the energetic, tarmac, tracks and tow-paths, quiet lanes and bustling market towns, and a calendar's-worth of scenery, from woods and pasture to miles of moor.
All in all, an attractive place to reduce your carbon footprint for routine journeys or recreation. Touring holidays, short breaks, weekends or half a day.
Plenty to go at if you're a good map reader, but all this variety is on a plate if you choose to follow all 176 miles (282km) of the signed Cheshire Cycleway.
The sheer number of backroads is astonishing, giving rise to plenty of permutations for cycle rides in quite small areas. Coupled with rougher tracks and bridleways, plus canal tow-paths and various sections of disused railway track, there are plenty of places for a bike ride.
The variety of terrain and the number of routes means that anyone of any ability can enjoy cycling here. It's just a case of choosing an appropriate area and mapping a route before settling into a pace that enables you to enjoy the scenery. So beat the credit crunch with a cycle outing – the only cost is calories.