Quarry Bank Mill

www.nationaltrust.org.uk/quarry-bank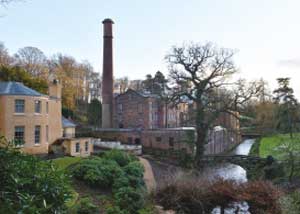 One of Britain's greatest industrial heritage sites, home to a complete industrial community.
In 1783 Samuel Greg, a wealthy local industrialist, seized the opportunity to take advantage of the desperate need for the expansion and industrialisation of the cotton industry. He found the perfect spot for his vision and built Quarry Bank mill on the river Bollin, harnessing the awesome flow of the river to power the mill.
Wonderful woodland walks contrast with the early buildings of the very early industrial age. Discover how the industrial revolution began and Quarry Banks' vital place in our history.
Since 2015 Quarry Bank has been at the centre of one of the largest projects in the National Trust's history. New areas have been restored and for the first time ever visitors can now explore the complete industrial heritage site at Quarry Bank. Discover how this £9.4 million project funded by the National Lottery Heritage Fund and thousands of generous donors, has transformed how you experience and learn about Quarry Bank.